FLYDESK Team is a hybrid workplace management software for a transparent team workplace scheduling & for an effective shared desk booking system.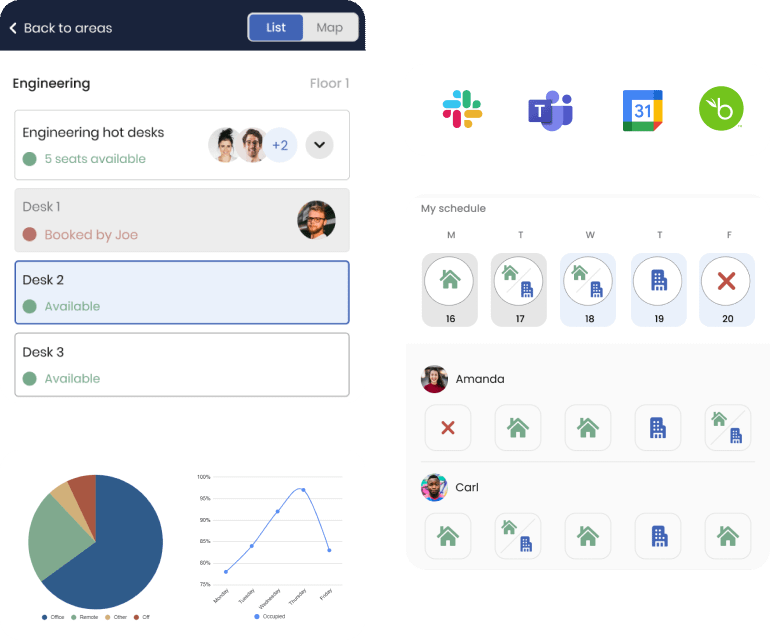 FLYDESK Space: Find the perfect on-demand workspace
Offering the best office and coworking spaces that meet high standards of comfort and performance.
Flex offices, meeting rooms & coworking desks
Compare hot desks, meeting rooms and office rental offers from our partners to find the best option.
Instant booking at the best price
We put you in touch with your preferred coworking space and help you get settled with no hassle.
Our mission
FLYDESK empowers modern and flexible professionals to be productive from anywhere at any time. Our hybrid workplace management software helps people and communities feel less isolated when working remotely.

Comfort
from a flexible work environment

CONNECTION
between remote & office employees
Performance
of the work done from anywhere
FLYDESK Solutions for business
Empower your flexible team
Increase your team's loyalty, productivity, and happiness with agile workplace management software. Successfully implement a flexible work model with our FLYDESK program — designed for Enterprises.
Transformation consulting

Office search & design

Office booking & team App
Give your team access to workspace locations that fit your budget and needs, so that they can work better together.
What people are saying about FLYDESK
"Finding the right office turned out to be an absolute must in 2020 given that travels became difficult. This is precisely why the FLYDESK team's added value is incommensurable.They found the right workspace for us in less than 10 days, despite our travel arrangements."
Vincent
Managing Director, Gavottes
"We were so used to our current way of working; I wasn't sure if the change would be a well-accepted one. Our collaboration with FLYDESK certainly made the process run smoothly though, and we were able to even improve certain organizational aspects to make our employees a lot happier too!"
Igor
Founder & CEO, Native Union
Insights on remote work & hybrid work
Agile workplace management software helps you to manage a distributed team better by allowing trust and improving productivity.
Find the best applications on the workspace management software to communicate and collaborate efficiently with your remote team.
Discover high-tech products and accessories that make flexible professionals more comfortable and productive.
Explore the best coworking spaces in your city and learn how to re-think your workspace for more flexibility. Available through our hybrid office management software.
Become a workspace partner
Join our network of premium workspaces offering hotdesks, meeting rooms, and offices for rent. FLYDESK also welcomes partners providing products or services that support flexible and remote work.
We only partner with the best and share a common mission to support productive, flexible work. Get started today.